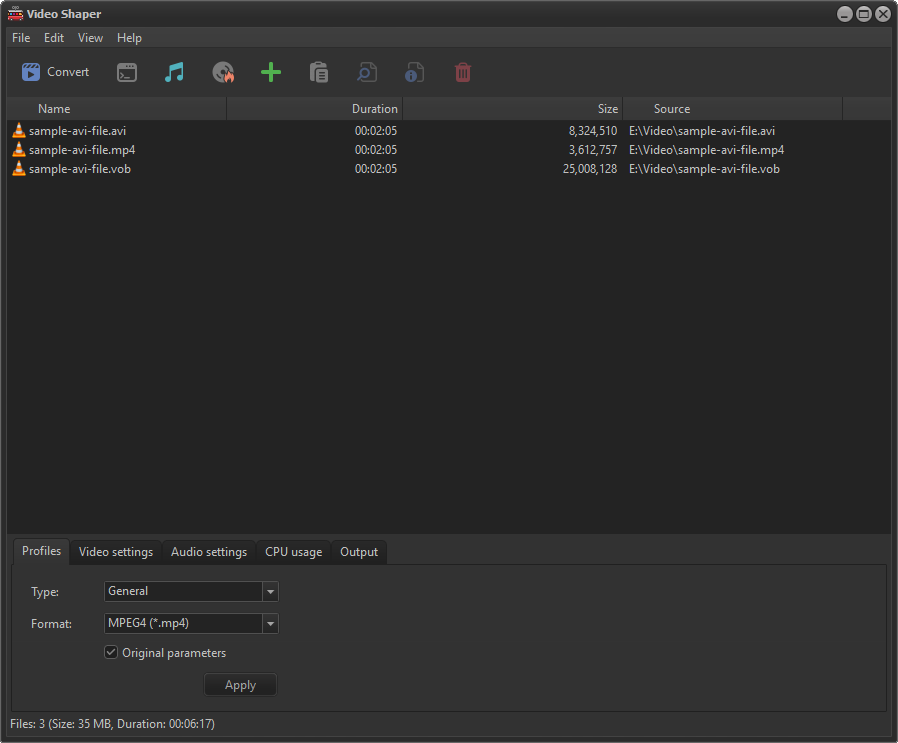 Video Shaper is a fast and efficient multi-function video conversion tool from Glorylogic. Unlike most video converters, Video Shaper provides you with several other functions that may otherwise require acquiring additional software to extract and save audio tracks or to burn discs. Deciding factors are that it's easy to use and it supports all popular video formats.
Download, install and open your free video converter to view the simple interface. You add and list your source files in the main panel, which also displays their source location, size, and duration. Tool icons appear above the panel, and the output settings panel (for video, audio or output tabs) is positioned below.
Convert
Select a video file in your list and configure your settings in the output panel. Video Shaper lets you convert and save your file, regardless of the original format, as AVI, MOV, MKV, WMV, VCD – both PAL and NTSC, DVD, or MP4. You can also adjust the default settings for the encoder, aspect ratio, and size, frame rate, and bit rate. A pop-up window, once you've clicked the 'Convert' tool, will keep you informed on progress as the file is loaded and processed.
Extract
Selecting the required video file in your list, click the 'Audio' tab in the lower panel to select your options – format, channel, encoder, sample and bit rates. Video Shaper will extract the audio track from a selected video file to save to MP3, WAV, OGG, FLAC, or WMA. Click the 'Extract' tool to create your new audio file.
Preview
Select the file to preview, click 'Preview' in the toolbar (or right-click the file and select 'Preview') and view the video in a popup player window.
Burn
Once you have saved your new files, you can burn them to CD, DVD or Blu-ray right from your free video converter. Select the file(s), click the 'Burn disc' icon, then select the output location (DVD drive) in the subsequent popup window, and click the 'Burn' button in the window.
Installing Video Shaper by no means limits you to converting, extracting and burning files! You can also erase rewritable media on the target disc (using the 'Erase' button in the burn function window) and make both batch conversions and batch extractions, if required. Your free video converter is compatible with Windows Vista, 7, 8, 8.1, 10 – 32 and 64, and supports most of the CD/DVD/Blu-ray players on the market.
If you're into making personal videos that you want to share, and interested in exploring and developing your creative skills, Video Shaper, with its many audio and video functions, is a very valuable piece of software to download and install on your system.