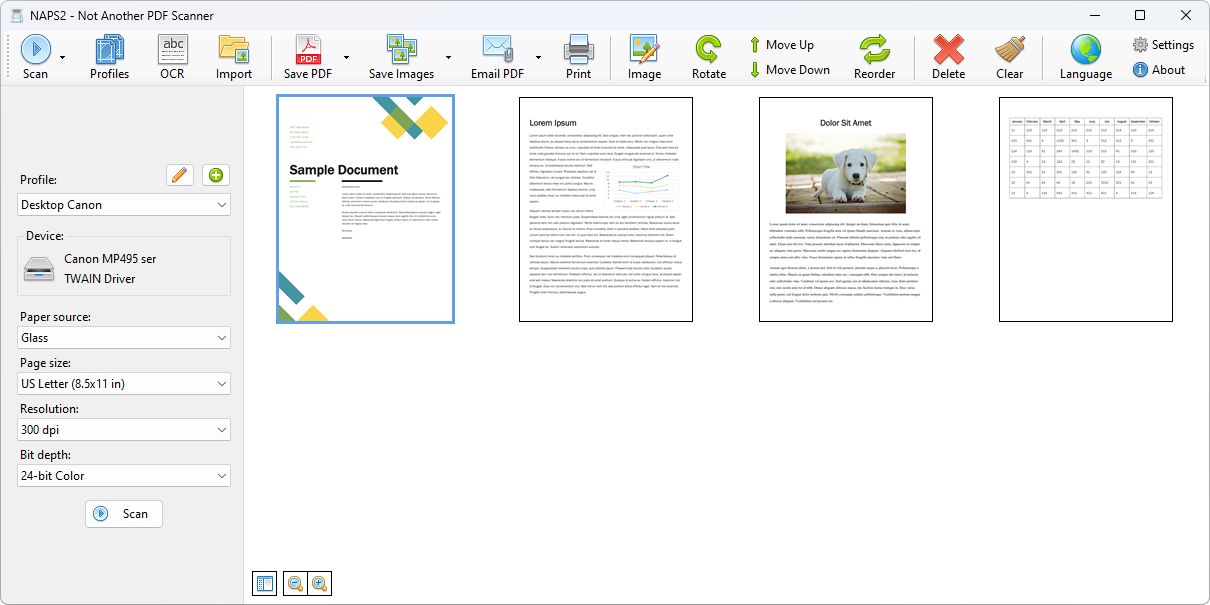 You may wonder why you need a dedicated program for scanning hard copies onto your computer yet your printer/scanner comes with its own software. If you regularly scan many documents, however, you have probably realized how limited the included software is in accomplishing your tasks smoothly and quickly. This is why you should consider NAPS2 (Not Another PDF Scanner 2), a freeware that comes in both installer and portable versions.
Using NAPS2
The installer version requires just above 12 MB of free disc space, and it is not bundled with any unwanted third-party application.
When we launched the program for the first time after installation, it displayed an almost bare user interface, with buttons for performing various tasks arranged on the upper part.
We had to add a scanning profile before we could start using the program. Please note that you cannot successfully complete the process unless you have connected your scanner to the computer, turned it on and ensured your system recognizes it. However, you may import image files you already have on your computer without connecting any scanner.
We added a display name for our profile, chose the appropriate driver and our scanner. The program is compatible with both WIA and TWAIN scanners. We could use either native WIA UI settings or configure our preferred settings. These included paper source, paper size, resolution, bit depth, horizontal align, scale, brightness and contrast. We could also choose maximum quality, which resulted in larger files.
The program allowed us to create multiple profiles, which we needed to select whenever we wanted to scan. The profile selection menu was displayed even when we had created only one profile.
Once we had selected the profile, the program displayed the scan selection menu where we needed to select the type of picture we wanted. We could select color, grayscale, black and white, text or custom picture type. The preview option enabled us to see the results of our choices, which helped us in fine-tuning the options to get the desired result.
When we clicked the 'Scan' button, NAPS2 started the process and listed the scanned documents as thumbnails. One of the features we liked about the program was the ability to scan multiple documents and save them at once.
The program allowed us to save scanned documents as PDF or different image formats. We had the option to rearrange, crop and rotate scanned pages before saving them. We could also make our PDFs searchable using the OCR feature. To use this feature, we needed to download the language we wanted to use.
Conclusion
NAPS2 is a user-friendly application for scanning documents and saving them as PDF or image files. The program provides more options than you will find in the software included with your scanning device. It features an optional command-line interface for scripting and automation. The free document scanning software requires Microsoft .NET Framework 4.0 or above.